This past weekend we were blessed to have a weekend away with our church staff. It was such an awesome time of rejuvenation for us as a staff, and was much needed. It's so nice to be able to minister with people who are so eager to do God's will as a team. Carter went with us of course, so he was loved on by many, and my Dad got to fix his favorite baby hairdo: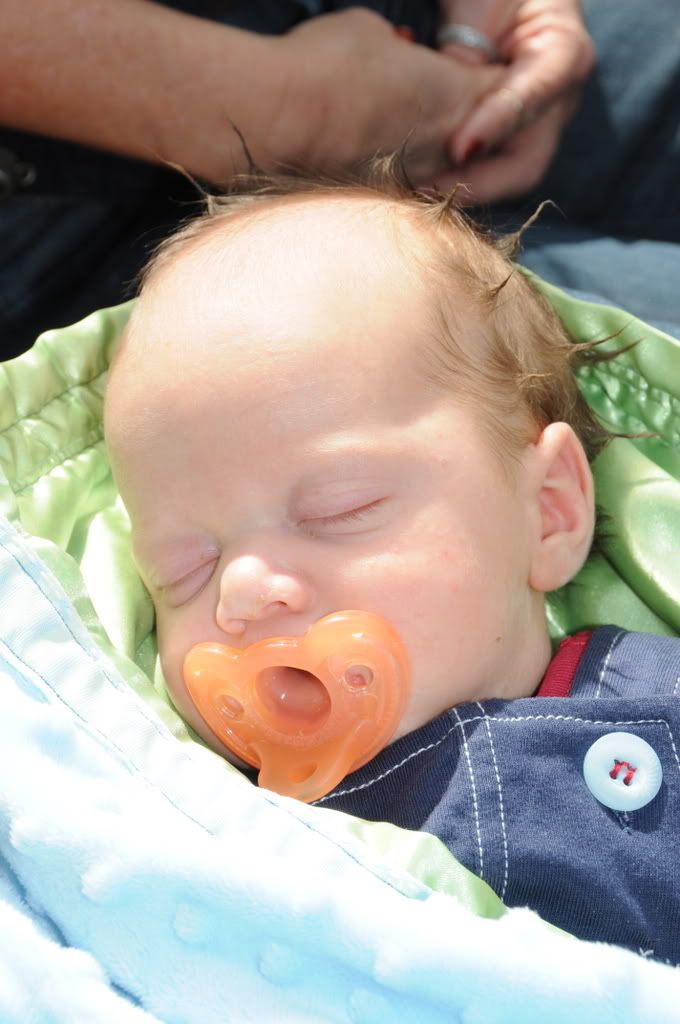 We like to try to go to our youth's sports and school activities as we can, but this year our attendance has been pretty slim since we were having a baby and all. We did get to go to one of the last home volleyball games of the season for one of our schools though. It was fun because we got to see 3 of our girls play at once. The boys always have such a good time at the games. Carson got to hold a poster while he cheered as loudly as he could, and Caden and Carter made the rounds to all of our friends that were there.
Loving on Pastor Russ:
Carter has been with us for 8 weeks now. He's such a good baby, and we're starting to see him awake a little more frequently...little being the operative word. He still has the bluest of eyes. He is starting to smile more and LOVES to look at lights. He's been a bit of a flirt with me at times and it's fun starting to see his personality come out. I think he's going to be pretty laid back, but we'll see.
A super sweet family in our church decided to give Carson their child's drum set since he had outgrown it, and Carson has had so much fun with it. Here is a video of him doing his very favorite thing.
We're heading to Houston tonight for Cary's sister's wedding. It should be a fun time, and I'm sure I'll have pictures galore to post. Everyone will get to meet Carter for the first time, and many of the extended family will also get to meet Caden. I'm so excited for Emily and Shawn, and am so excited to get to be a part of their special day!! :)