It's been a long time since I've posted! Sorry everyone! Lets see...what has happened?
Well, we went to California on the weekend of the 7th for Cary's work Christmas party. We took the boys because I have family out there, and Natalie came up to Sacramento and kept the boys during the day and night of our party. It was so much fun! During the day, I met up with Cary's boss' wife and we took the kids (she has 2 about the same age as our kids) to a jump house place. Carson LOVED it! Caden was napping in the car with Natalie. :) The party with everyone was so nice and SO much fun. Then on Saturday morning we got up and drove to Fresno to spend time with my grandparents. We had a great lunch there and then drove to check in to our hotel and went immediately on to visit my uncle's church. We got to be a part of their Saturday night service - which is phenomenal! It was so awesome to get to spend time with my family out there. It was especially nice to introduce the boys to everyone and get to hang out with Natalie and Nathaniel (my sister and brother). We were very busy the whole time, but it was so worth it! When we got home, the boys were so tired that Carson slept in until 10 AM and Caden took 5 hours worth of naps on that Monday! Here's a picture of Cary and I at the party: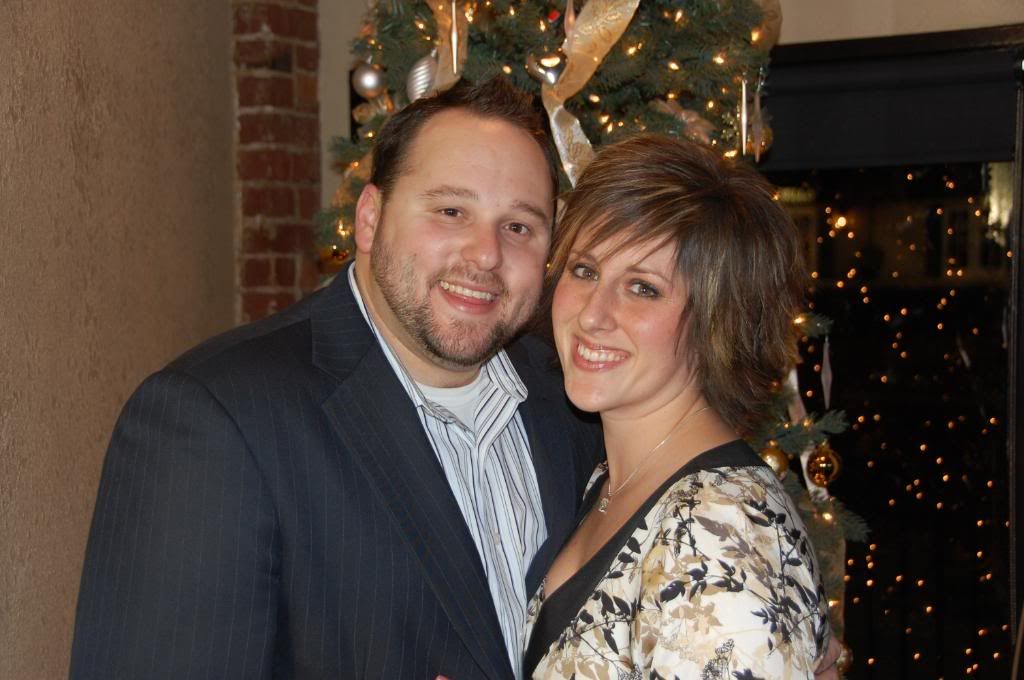 The other big thing that has happened is that Cary gave me my Christmas present early! :) I got a Nikon D200!! Our church photographer just bought it last year, and decided to upgrade, so he gave Cary a great deal on a nearly brand new phenomenal camera. I've been talking for a long time about how I would like to learn more about photography and maybe eventually (like when I'm good...) turn it into a small business. Now that I have a crazy nice camera, I suppose I'd better get busy learning! :) SO...here are lots of pictures I've taken over the last few days (Cary has taken a few of these too...)
Caden had his first taste of eggs the other day and loved them! He's gotten to the point where if we are eating something and don't offer it to him he starts squealing until you share.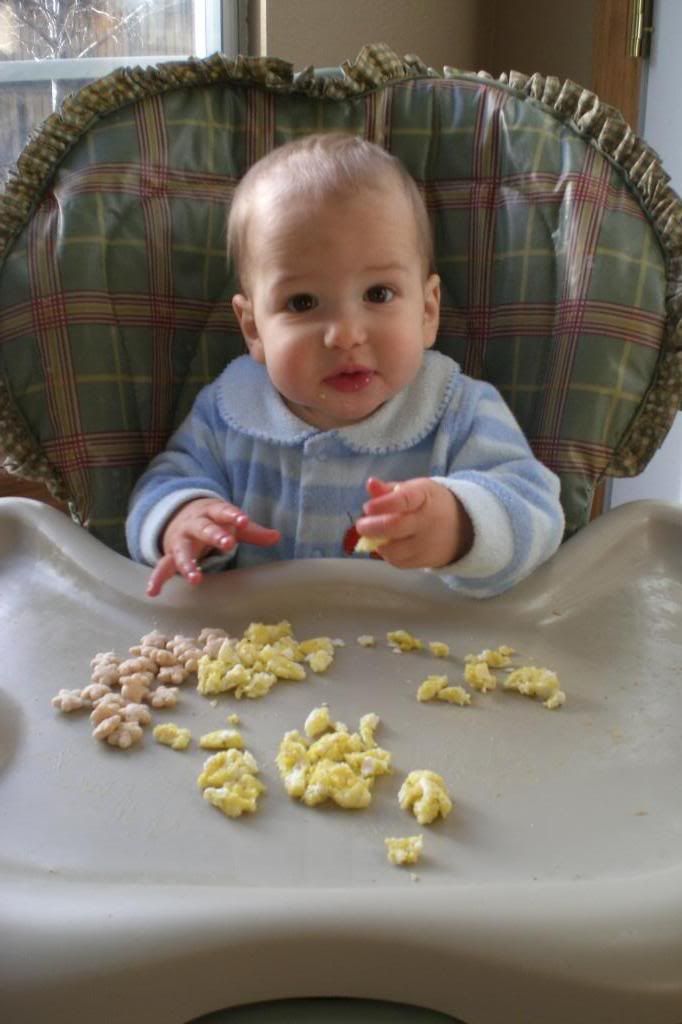 He has also learned to go out and in the doggy door.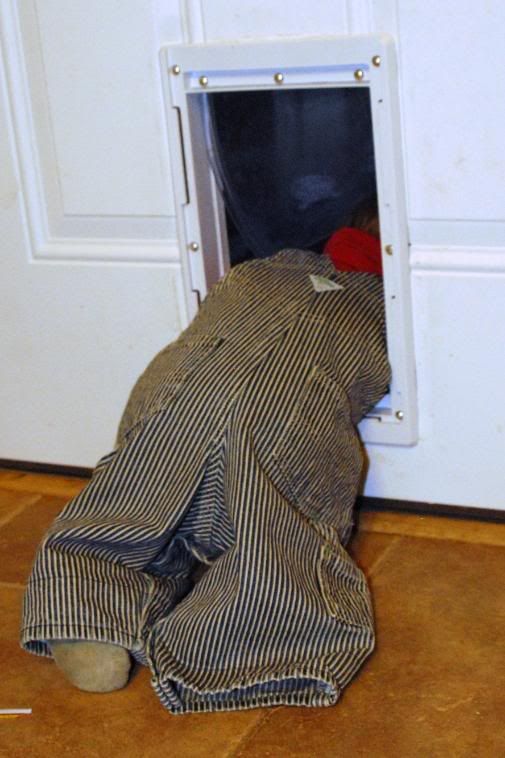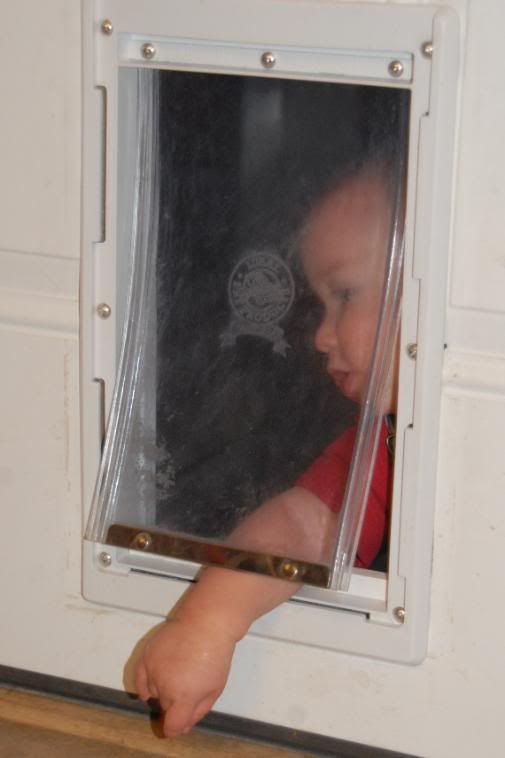 He also really enjoys feeding the dogs. He's so careful about giving them food, and then when they gobble it up he laughs his head off. Now if I could only get him to eat his fill first and share second.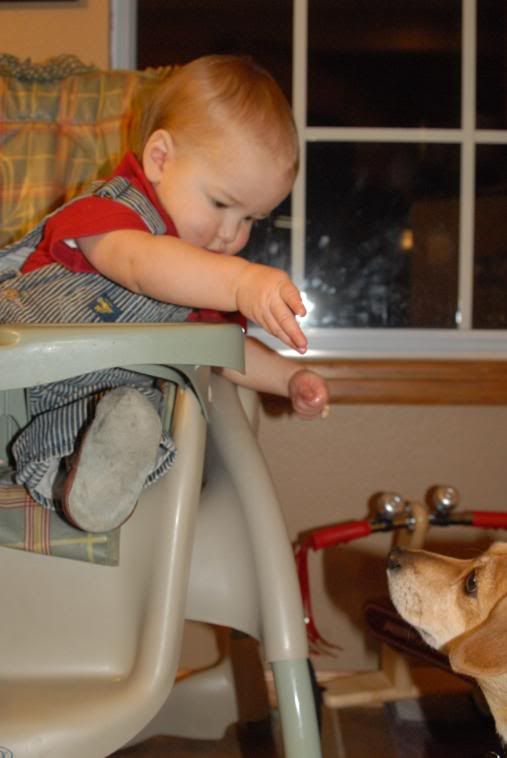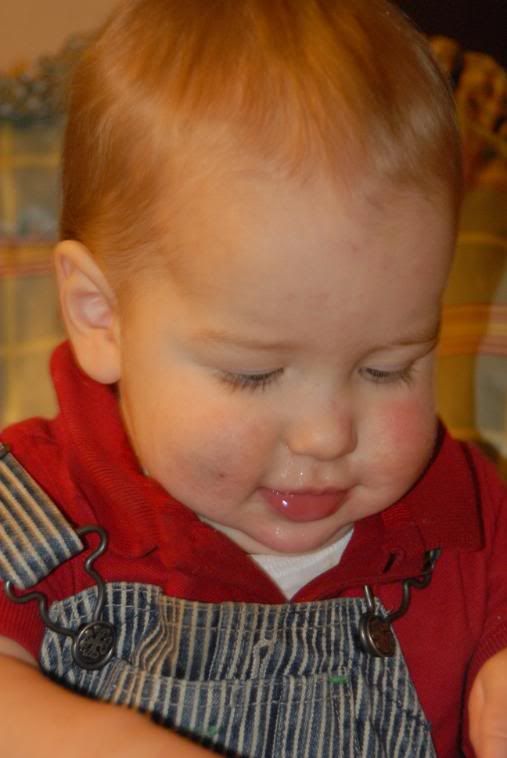 (these next ones were taken first thing in the morning, so pardon the bed head)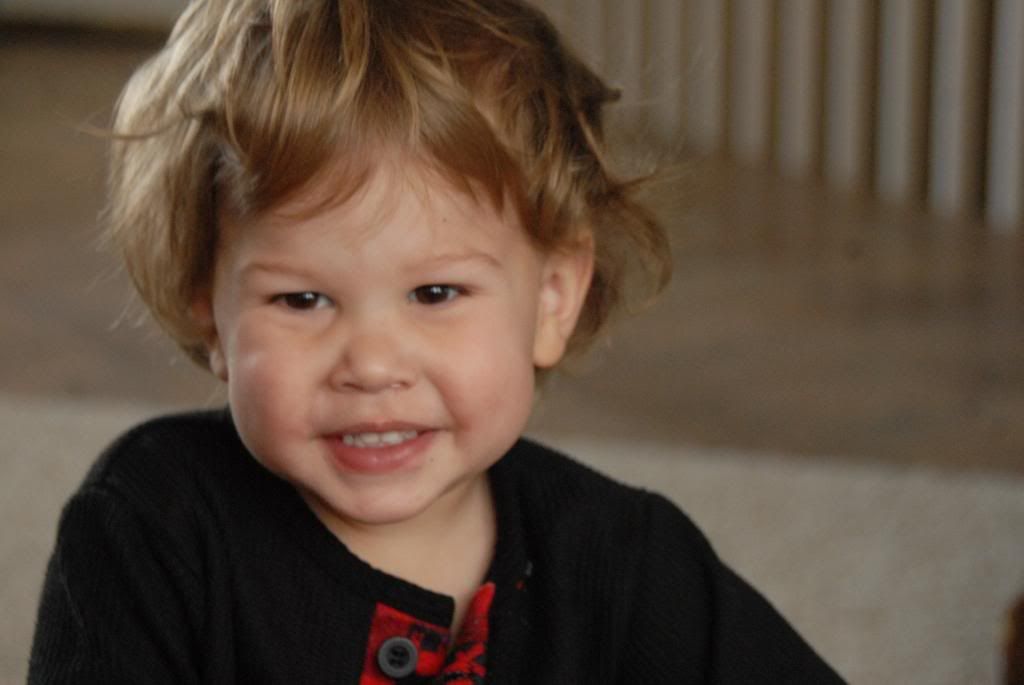 "Mommy!! The wolves are coming!!!"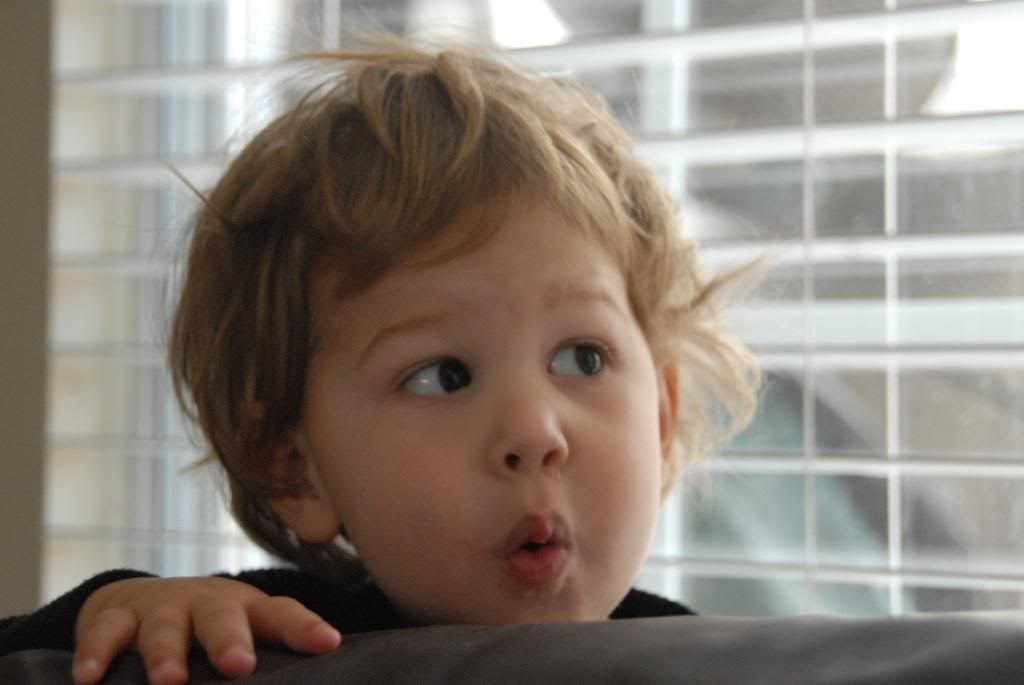 "The wolves?"
"Yeah."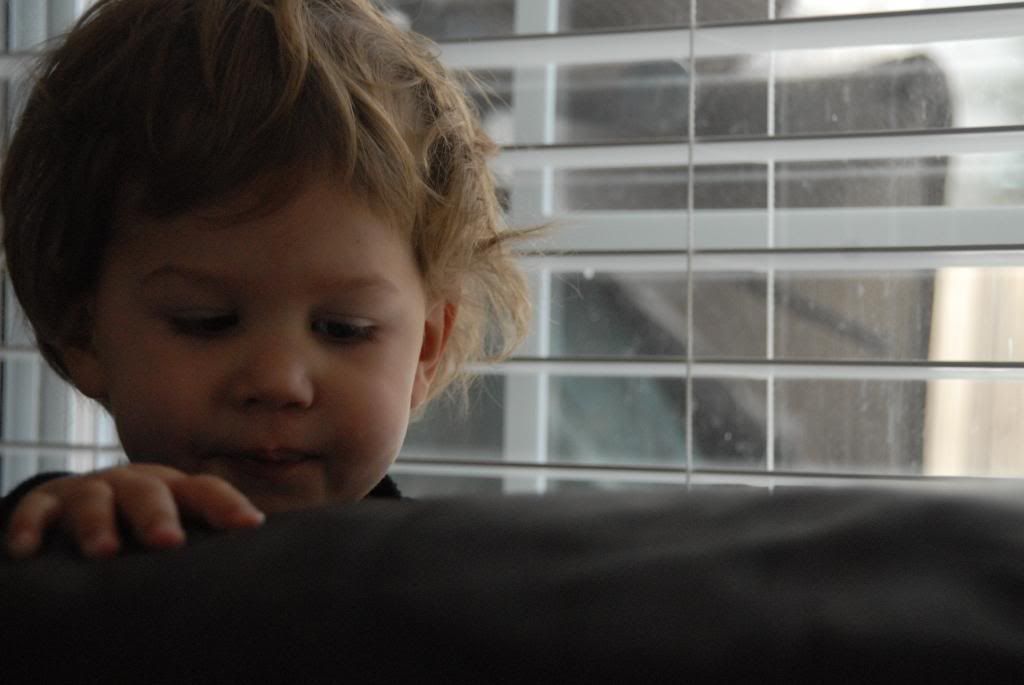 "They're BIG scary wolves."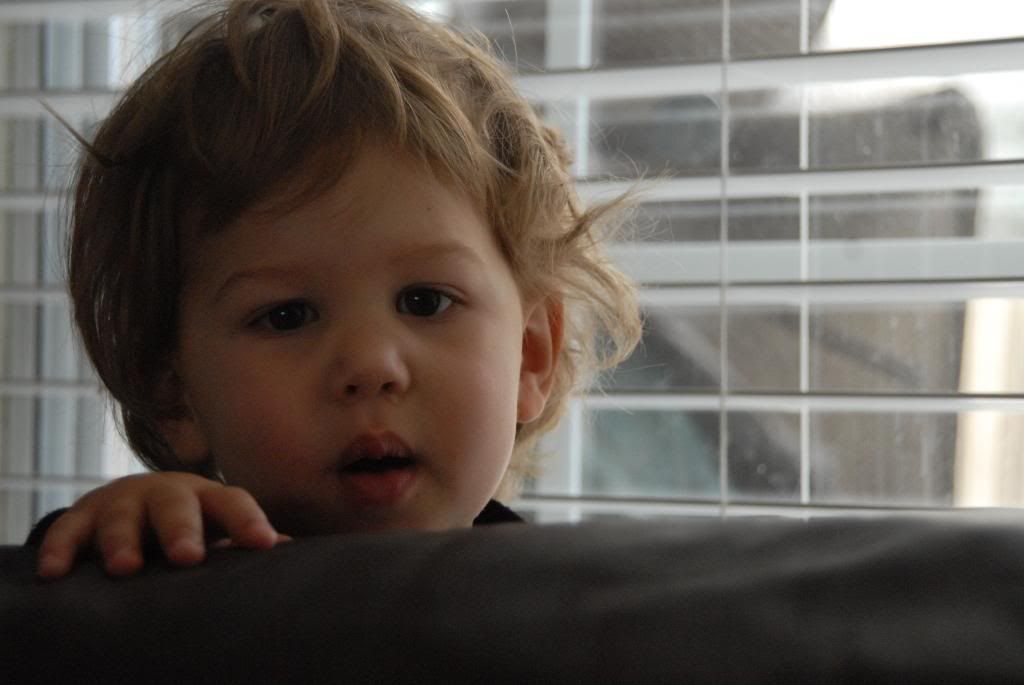 "Scary?? How scary are they?"
"THIS scary!"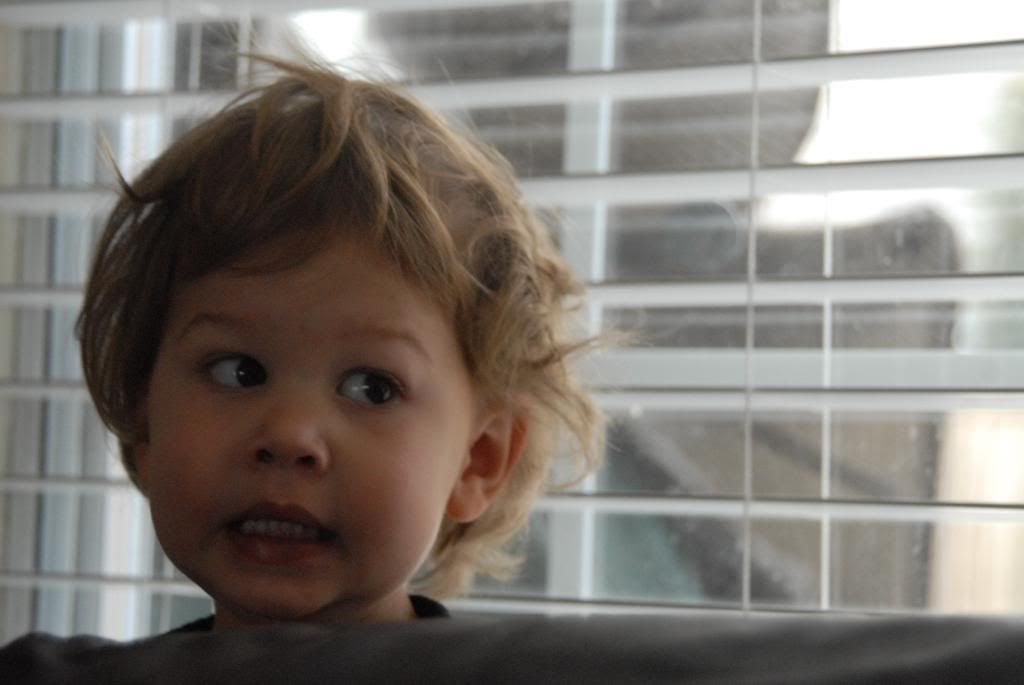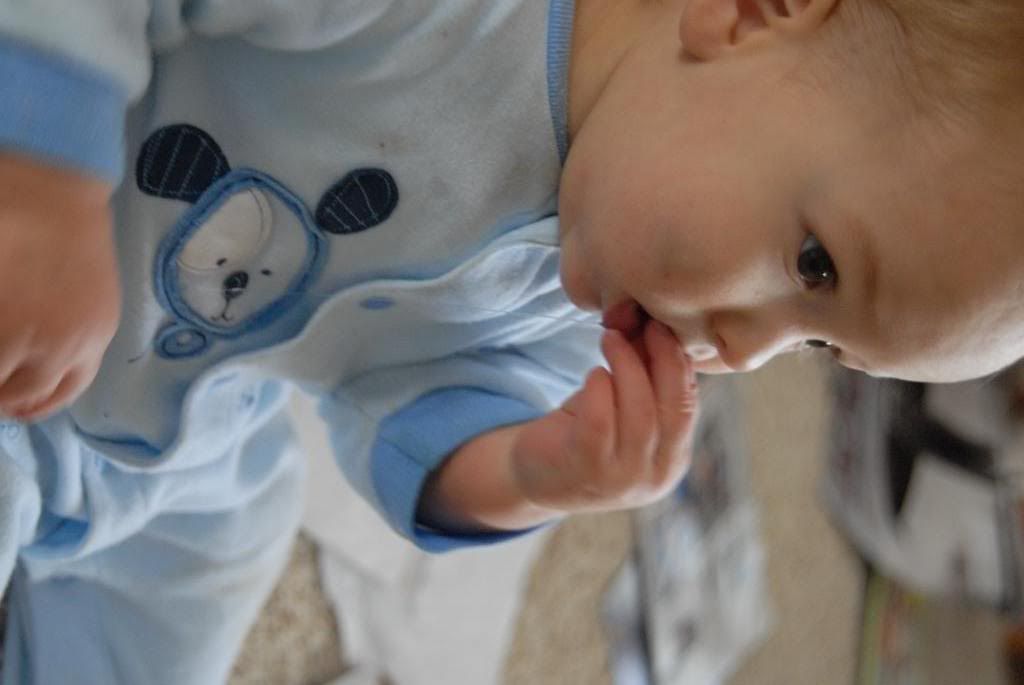 Carson also got his first haircut that I've been happy with since Auntie Natalie moved to Cali. Miss Kosha gave it to him. She goes to our church, and worked with Natalie, so I had great faith in her, and it was well placed. :)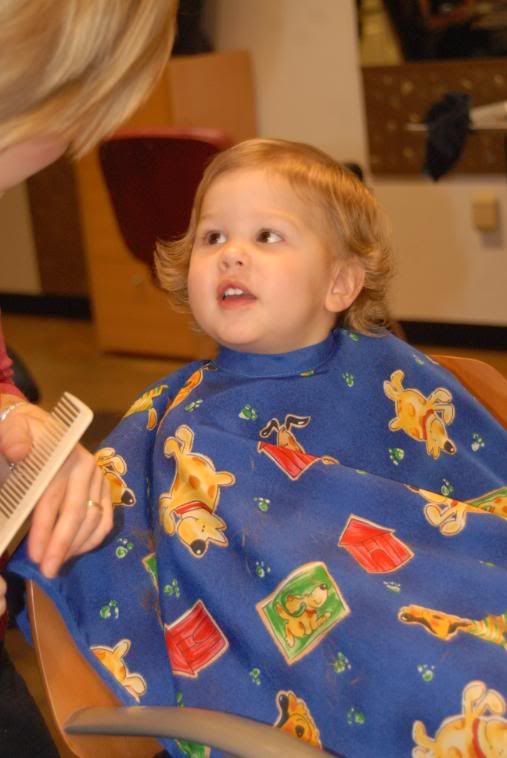 Here's a post haircut picture (This is such an obvious "cheese" picture. He was so not cooperating):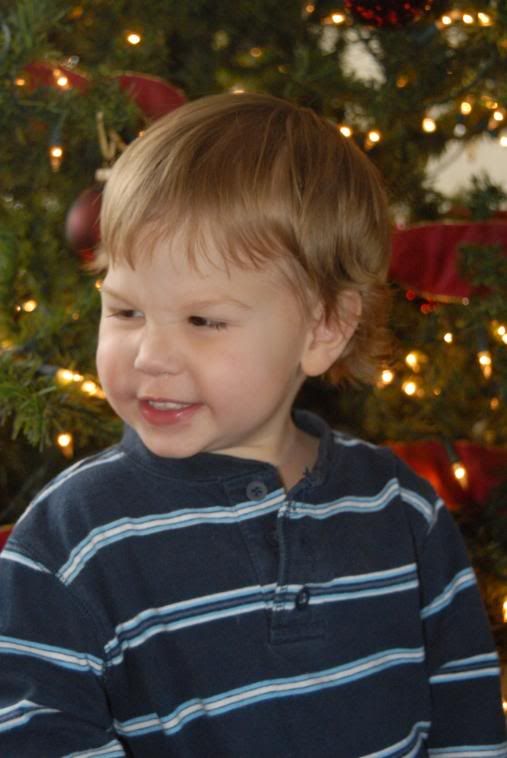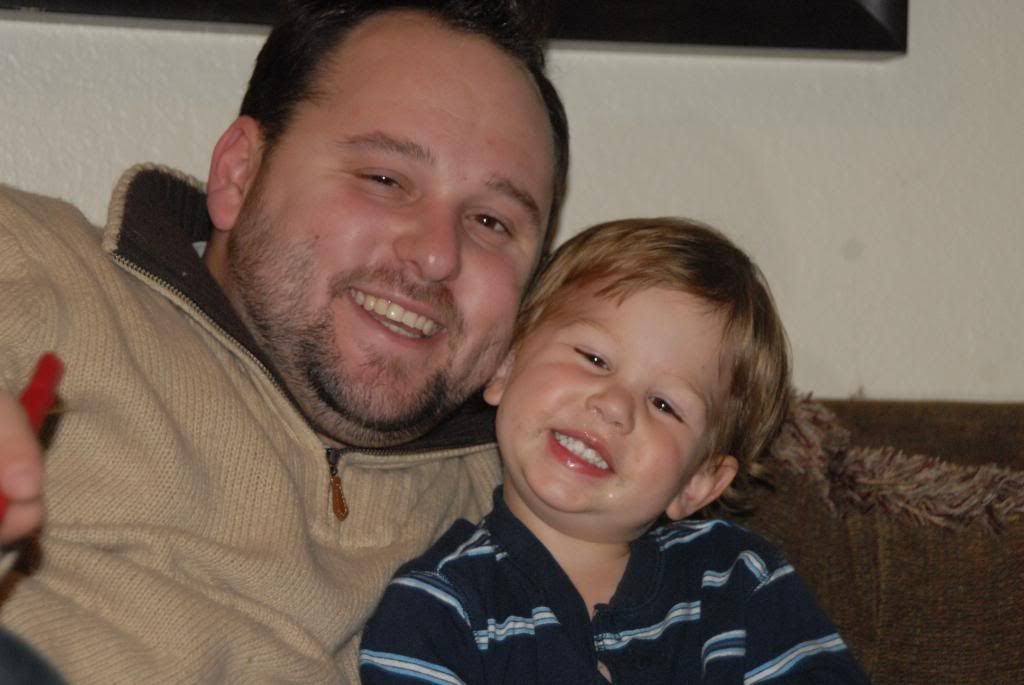 Carson has loved playing in the snow this winter. He has recently learned about throwing snowballs and making snow angels (which I have yet to get a picture of):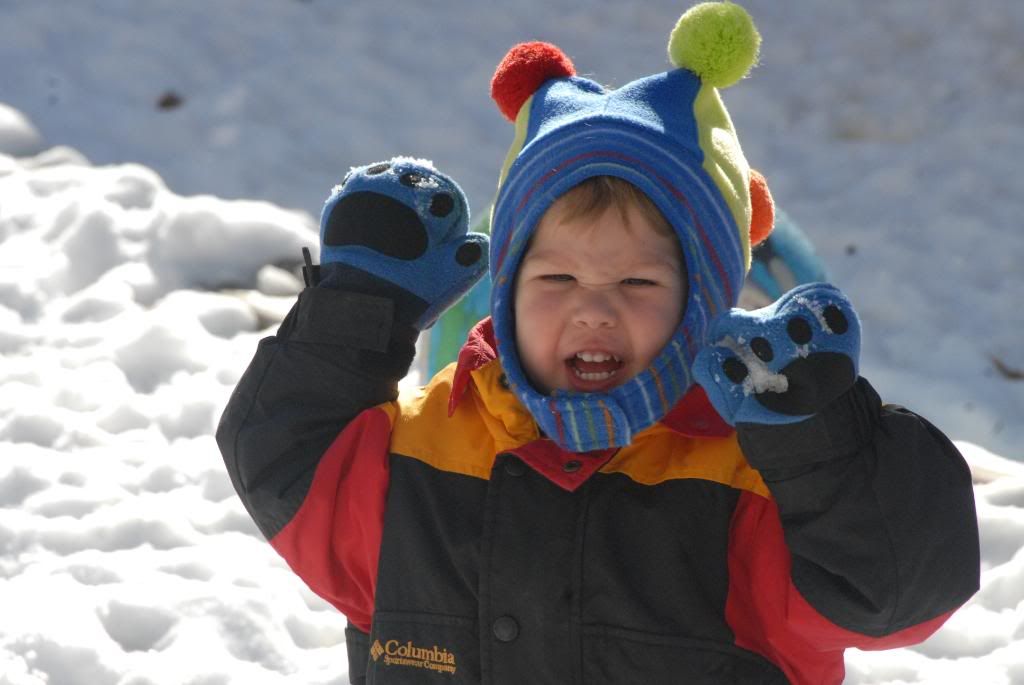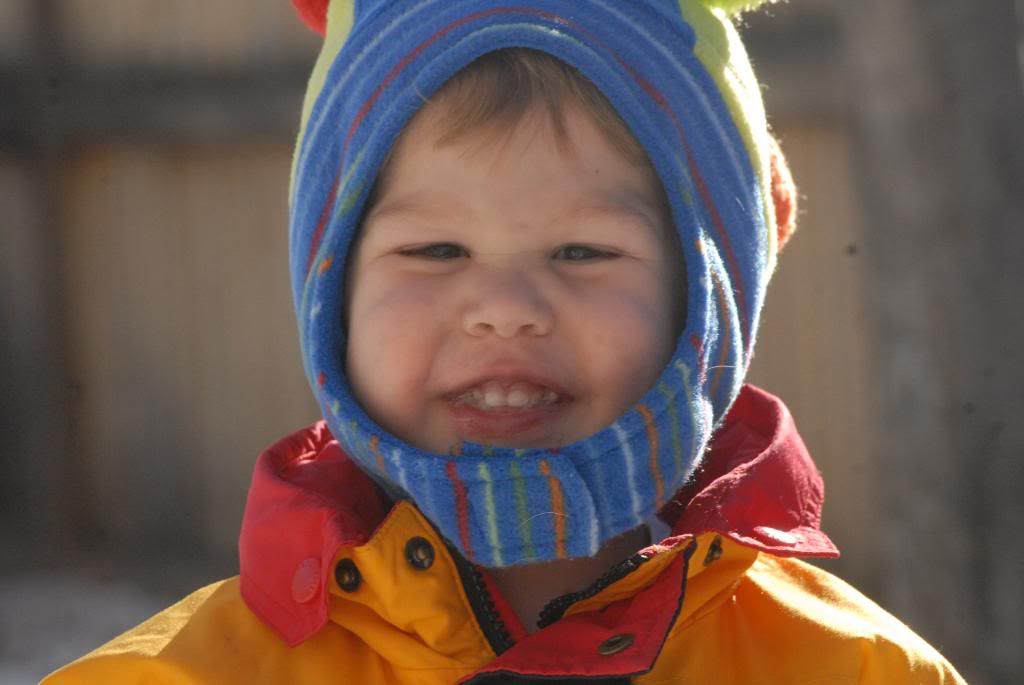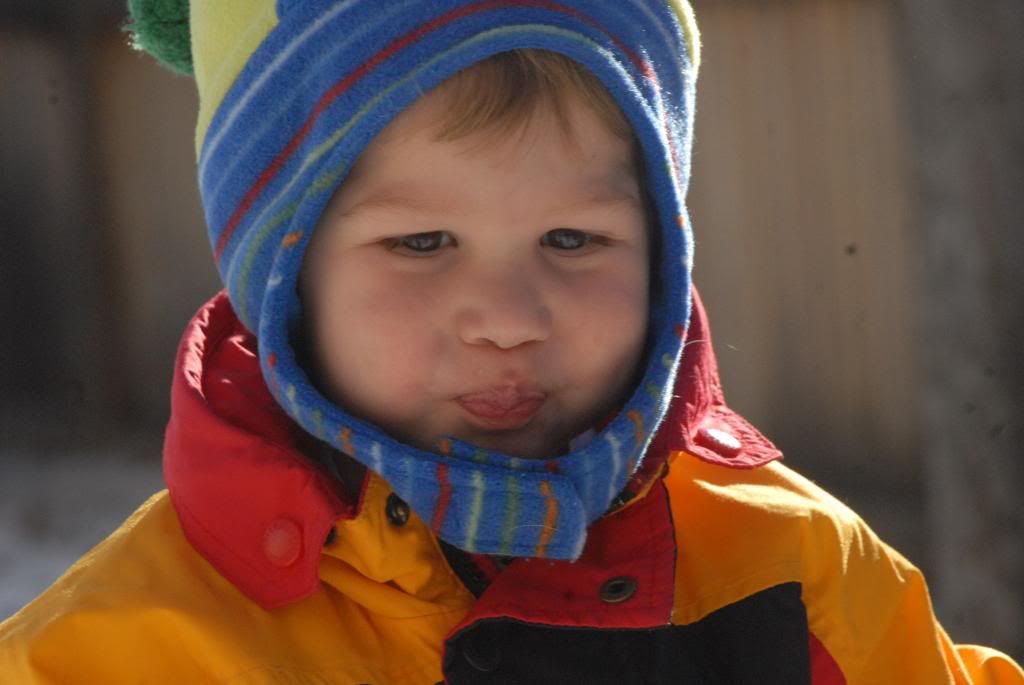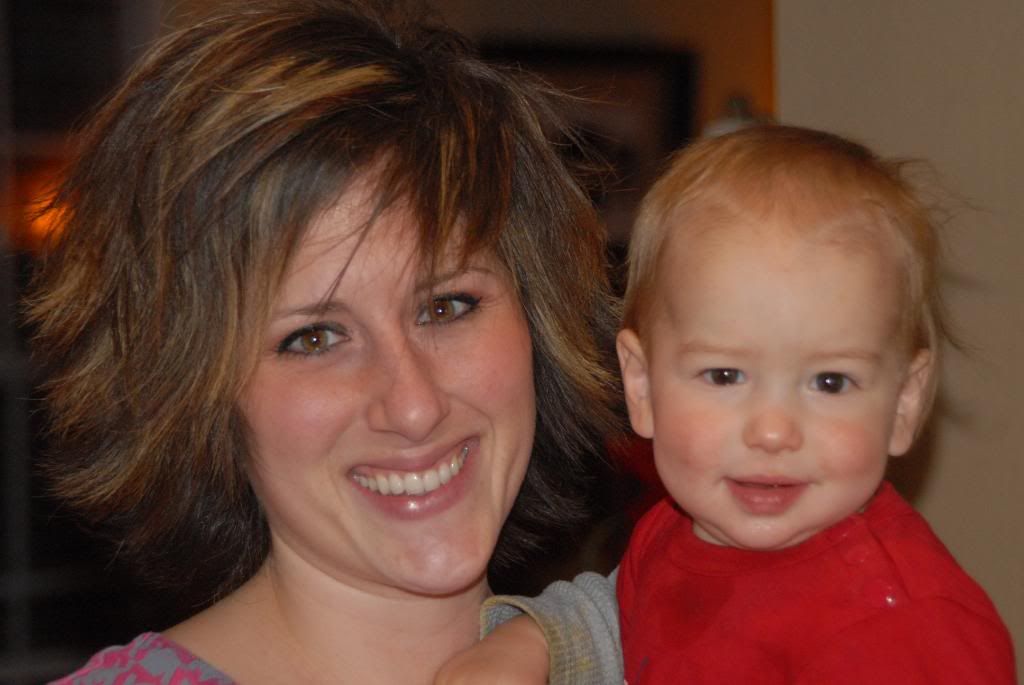 We had some friends over for dinner last night, which was a lot of fun, and Carson was playing with their little boy, and somehow during the play, Carson's chair tipped over into another chair, and he busted his eye. He cried pretty hard and I was wondering how his eye would look this morning, but it's healing nicely already.
Last night: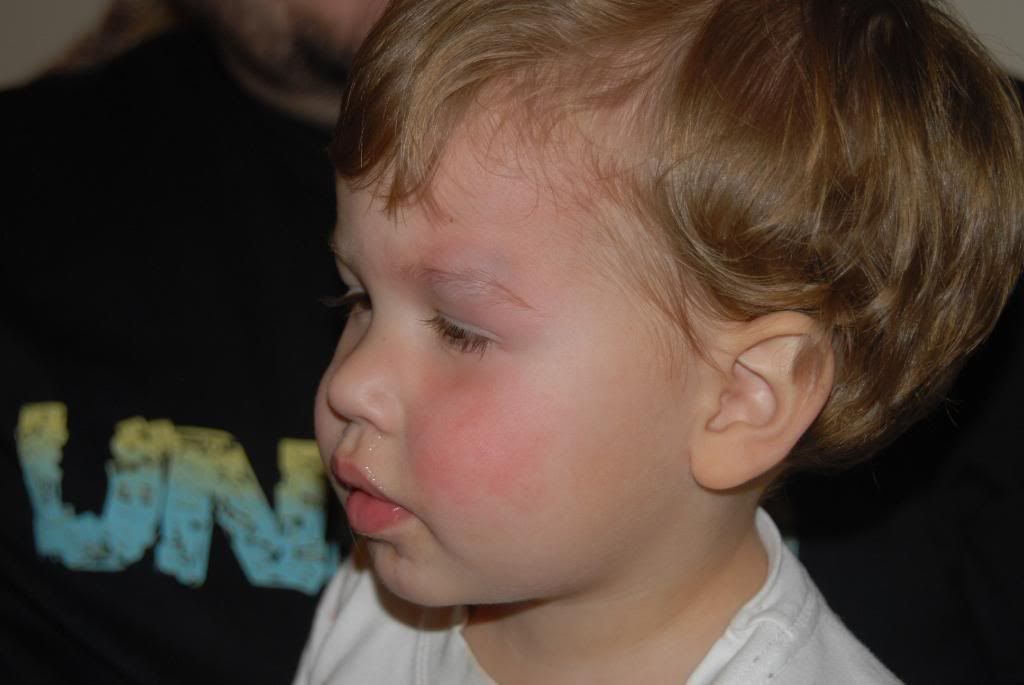 This morning: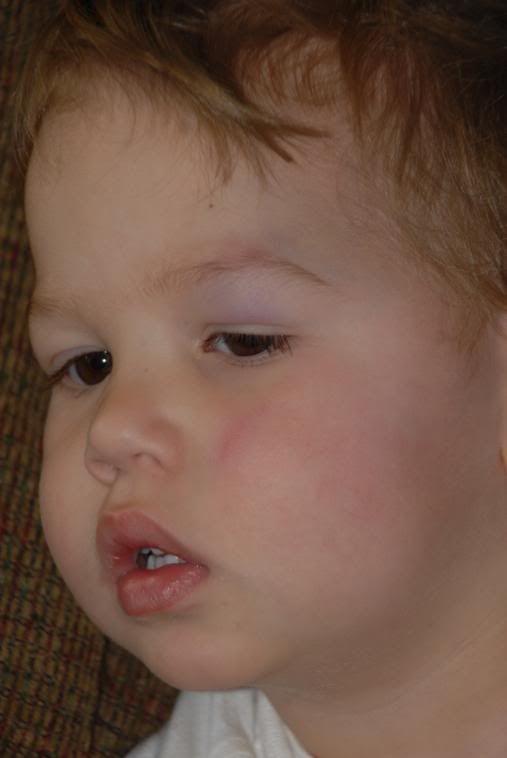 We have our youth Christmas party tonight, which should be so much fun. On Sunday after church, we are heading to Arkansas to spend Christmas with Cary's dad's family. It should be a lot of fun, but we are driving with the boys... so pray for us!